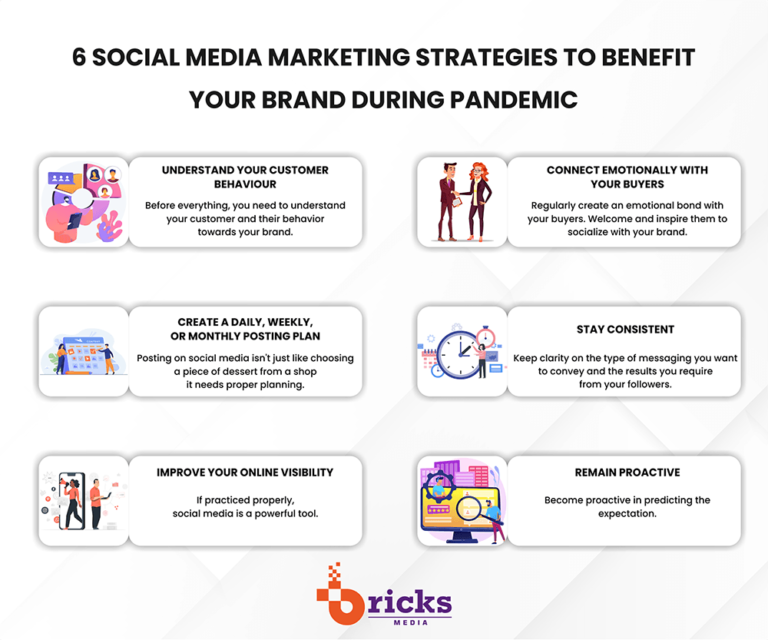 6 SOCIAL MEDIA MARKETING STRATEGIES TO BENEFIT YOUR BRAND DURING PANDEMIC.
Social media is always important for businesses. However, it has become an even more active means for businesses and their customers as we sail through Indian lockdown and the COVID-19 pandemic. The sun is shining this summer with rising temperature but sadly the cases of Covid-19 too. Yet businesses still see social media campaigns as the highest digital PR tactics during the current story of coronavirus pandemic.
Bricks Media, known as the best digital marketing agency in Thane, is talking about the profits of social media for businesses in this guide. But if we see these aren't normal times we're living in, this isn't your normal social media hype up as well and the pandemic has raised the need for businesses to adopt a solid social media strategy and an active presence. A lot of people are using Twitter, Facebook, and Instagram to be up-to-date.
As businesses are dropping profits and team well-being, marketing through social media will be key because of social distancing and restricted change, more customers are now shopping online.
To survive this crisis, your business requires to keep its customer base and have an engaging presence on LinkedIn, Twitter, Facebook, or other social media platforms that will help you connect your clients and develop connections.
How to Improve Your Brand Presence With Social Media Marketing
As your social media marketing strategy is frequently increasing, the given tips will help you keep your brand presence in the era of COVID-19. Hopefully, you are not thinking to jumble the plan once the environment settles into a new normal. It's not going to be business as usual. Not anymore. So, here's how to help your business maintain its momentum post-COVID-19 so read all points in detail for proper understanding by Bricks Media: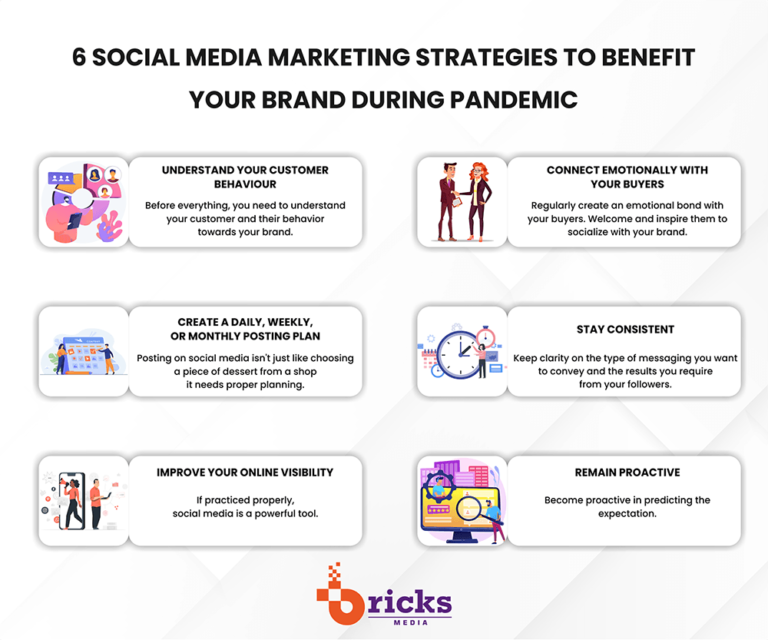 1. Understand Your Customer Behaviour.
Before everything, you need to understand your customer and their behavior towards your brand. Their requirements regarding your service in the market. You can ask special questions, or study buyers talking about your brand. Understand the viewpoint about your brand or product, and how you can utilize that information while establishing your presence in the current market.
2. Create a Daily, Weekly, or Monthly Posting Plan.
Posting on social media isn't just like choosing a piece of dessert from a shop it needs proper planning with staying up to date with monthly occasions and following the chart adequately. Develop the habit of planning one week or monthly posting chart. Not only can planning make productivity, but can help you be more prepared and less stressed.
3. Improve Your Online Visibility
If practiced properly, social media is a powerful tool. You can use it to build your brand awareness, and generate leads by defining how the market feels about you, and other factors.
This creates a question about, Are you practicing the right ways to engage with your buyers?
Whatever your sales aims, you require a well-crafted social media marketing strategy that will help you attract, engage, and maintain your target audience.
Hence, ensure that your website, social sites, and content follow with your brand image and engage your audience.
4. Connect Emotionally With Your Buyers
Regularly create an emotional bond with your buyers. Welcome and inspire them to socialize with your brand. Encourage them to follow you through the crisis by sharing interactive posts on Instagram, Twitter, or Facebook. Create simple and meaningful creatives that accurately define your brand and attract the right audience.
Make your buyers become a member of your brand story by connecting with solutions to their requests. Share behind the scene video footage of activities your business is engaged in. Ideas engaging with their buyers and followers presently will remain on top.
5. Stay Consistent
Keep clarity on the type of messaging you want to convey and the results you require from your followers. Understand that your audience is keenly watching with interest at the stand your business is taking. The performance of your viewers will keep changing over the next several months. Your brand needs to be consistent in analyzing and re-strategizing its social media marketing strategy as people connect to #current regular and unique challenges appear.
Note that consistency increases trust and buyers consider flexibility.
6. Remain Proactive
Become proactive in predicting the expectation. Businesses that neglect this opportunity are dropping back or wasting their stand of the market in the crisis. Buyers are seeking encouragement and positive connections. Hold the business tag that delivers on time, gives a note of thankfulness, shares smart pieces of advice on working, or positive quote. This will go a long way in obtaining and maintaining your consumer base continued after the crisis ends.
Social media has been a dominant presence in the lives of buyers and businesses the demand for clear, informative, and positive social media for businesses has increased during the COVID-19 pandemic.
If you'd want help designing and executing an understandable social media tact for your business get in touch with our team of Bricks Media assisting the best digital marketing services in thane today and see how we help you achieve your goal. The COVID-19 pandemic will eventually come to an end, but the possibilities modeled to online businesses will not. Now that online business has become your main means of business, stay on top of your game as you catch the most suitable bits for success.