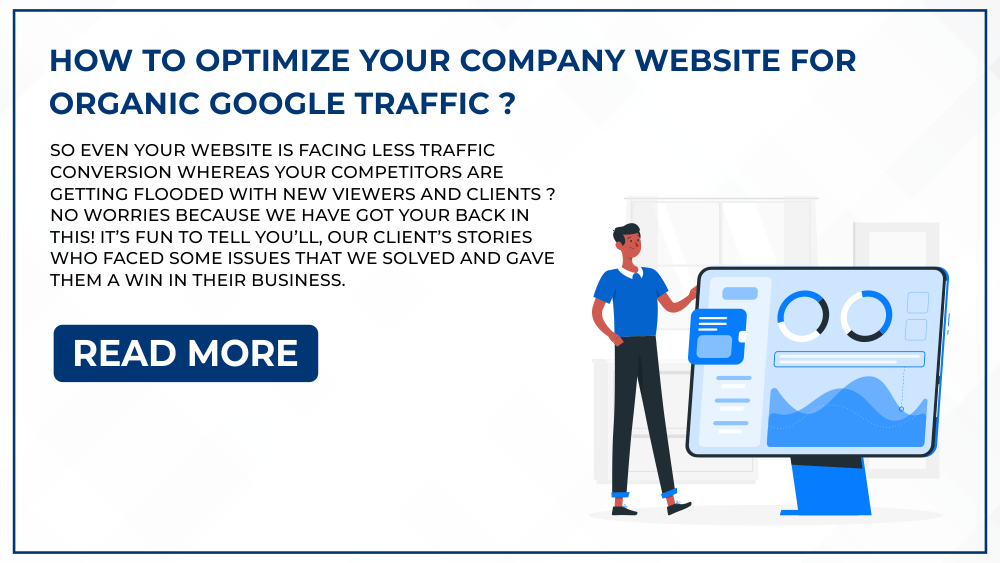 HOW TO OPTIMIZE YOUR COMPANY WEBSITE FOR ORGANIC GOOGLE TRAFFIC
So even your website is facing less traffic conversion whereas your competitors are getting flooded with new viewers and clients? No worries because we have got your back in this!
It's fun to tell you'll, our client's stories who faced some issues that we solved and gave them a win in their business. One very common was this, "Less organic traffic even after practicing strong SEO strategies for months and months." Here is where they came to us, and we got an opportunity to help them achieve their desired business growth.

We also thought, why not share a guide for others who didn't reach us but will surely do once they get the best effective results after reading and applying this.
Let's get started!
We all know how important it is to have a user-friendly website with creative layouts and a good overall look for your business to make a stand. But what if you have a perfect layout website and still no one is reaching out to you from there? Know why did this happen in the simplified tactics below.
We all know how important it is to have a user-friendly website with creative layouts and a good overall look for your business to make a stand. But what if you have a perfect layout website and still no one is reaching out to you from there? Know why did this happen in the simplified tactics below. 
1.Identify & Fix Non-Performing Content
2.Find Accurate Keywords Suitable for Your Business
3.Optimize Your Site for Mobile
4.Create Blogs to Increase Keyword Ranking Fast
5.Good Content is a Win for Organic Traffic
6.Exploit Site Architecture to get Sitelinks
7.Make use of Creative Graphics & Image
1. IDENTIFY & FIX NON-PERFORMING CONTENT
Non-performing content is content that is not favoring you or your business by any means. It's about using content that's not connected with your business type or content with no keywords that are great for you or using excessive keywords in your content (keyword stuffing).
When the audience arrives on your site and sees no relevant content, they directly lose interest in continuing to scroll down, as the content is not creating engagement with them to know more about your business.
To understand which content performs well for you, you require a lot of good research. Research for your competitors or connect with a reliable SEO agency in Mumbai.
Connecting with them, they will work on all the required aspects your website is lacking. And their experts will use great strategies that will directly show you the best results.
2. FIND ACCURATE KEYWORDS SUITABLE FOR YOUR BUSINESS
The best method to rank for a keyword is to apply it. You should include important keywords early in your page titles, headlines, and body text since early placement can indicate its importance. Use your focused keywords frequently in your copy — but never at the expense of good writing. Google algorithms have become careful about keyword stuffing and penalize pages that use keywords excessively in ways that interfere with the reading experience.
An easy way to avoid being penalized for keyword stuffing is to read your copy loudly — if your keyword use sounds unnatural, you may get flagged for stuffing. To correct this, you can replace your focus keyword with secondary keywords you want your blogs to rank.
Keywords play an important role in displaying your site when someone searches for it. So, you need to have proper keyword research that suits your business type and helps you appear on the search engines if used correctly in your content.
If you feel that the keyword research for your business isn't as accurate and effective, that means it's still not correctly done. So, the best way to get it executed is by connecting with an expert SEO agency that brings effective and correct keywords for your business type. This agency also offers affordable SEO packages in Thane for all businesses.
3. OPTIMIZE YOUR SITE FOR MOBILE
In 2015, Google first stated that it would be using mobile-friendliness as a ranking signal. It triggered many brands as they struggled to optimize the mobile versions of their sites. Since then, Google has been gradually increasing the importance of mobile-friendliness in its rankings.
We all know that mobile phone usage has increased drastically, and most of them find it comfortable to surf sites through mobile phones. When a site is mobile-friendly, it gets visited often with good engagement, and Google notices it. So, to know if your site is mobile-friendly or not, you need to check on it through mobile phones too and understand which part needs fixing that will make it a mobile-friendly website.
4. CREATE BLOGS TO INCREASE KEYWORD RANKING FAST
Blogging is one of the quickest ways to increase the number of keywords—especially non-branded keywords—that rank your site. Blog posts provide you to place your brand as an expert in your field with top-of-funnel informational posts and lets you showcase your product to people searching for related information.
Blogging is a great way to play with content and your keywords. You can showcase your brand by building its professional stand. It is a very effective way of driving traffic on your website if practiced correctly. While creating blogs, you must hold trending topics for your business type. Trending topics will make your site appear on top or visible rank in search.
But blog content will only drive organic traffic if it answers real user wants. A blogging strategy focused on products or services alone will fail to resonate with searchers.
5. GOOD CONTENT IS A WIN FOR ORGANIC TRAFFIC
Before you drill into some of the more specialized ways to improve SEO ranking, always remember that writing high-quality content that attracts interest and constrains visitors to share it and connect back to it is vital. Good content has the best possibility of being viral content, and Google rewards content virality heavily in its ranking's algorithm.
Creating content that will only show your brand and products is not quality content in SEO. In SEO, your blogs should be solving problems and not selling branding. Your content should make users get solutions for their requirements and create interest in engagement. Engagement that will make them come again and again on your site with also sharing them with others.
If, how your website must be trending and have SEO-optimized blog content, is why you are curious? Let us help you with this.
Get in touch with the leading Digital Marketing agency in Thane. This agency takes care of all your SEO, Ranking, Website designing, and content marketing needs. It is like a one-stop solution to your win.
6. USE SITE ARCHITECTURE TO GET SITE LINKS
Site architecture plays a significant role in how crawlers access your site and how human searchers navigate and engage with it. They don't know which pages or posts are most important to your site if your site architecture is complex. Users also might not find the information they need, generating them to bounce from the site. This return sends negative ranking signals to search engines, so your site drops in the SERPs.
As we stated before, your site represents your brand, and its use and architecture matter a lot in SEO. Good architecture boosts organic traffic by positioning your site higher in the results and increasing the chances of having site links featured in SERPs.
7. MAKE USE OF CREATIVE GRAPHICS
Your site should not be all about content. Many times, viewers start reading your content and do not find it engaging to keep the interest, hence use graphics.
Creative and informative Graphics create visual communication. You can also use videos that are appealing to keep your viewers on site. Some viewers prefer informative graphics over reading the complete content in detail. To keep such viewers on your site is also a must.
Graphics Provide More Information Faster. It enhances the structure, design, or informative content of the webpage while keeping their attention at bay.

Experimenting with these seven tactics will help you find the recipe that provides growth and stable traffic. Check our Website, Bricks Media, to get full access to the examination and competitive analysis tools you need to start winning with organic on a long-term basis.